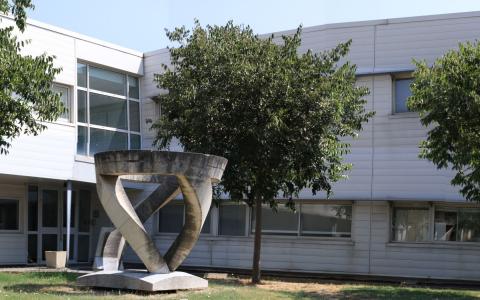 Presentation
The Centre des matériaux des mines d'Alès (C2MA) is one of the three research and teaching centers of IMT Mines Alès. It is specialized in the field of materials and construction with low environmental impact. It provides a strategic link between training, research and economic development activities in this field.
Missions and composition of the C2MA
As such, its missions are threefold:
    To advance science and its applications in the service of business and society;
    To train the school's students to the highest level, thanks to the high degree of expertise of its faculty;
    Promote the transfer of this expertise to business and society.
As illustrated in the image below, the C2MA comprises :
    3 research teams
    2 teaching departments
    4 technology platforms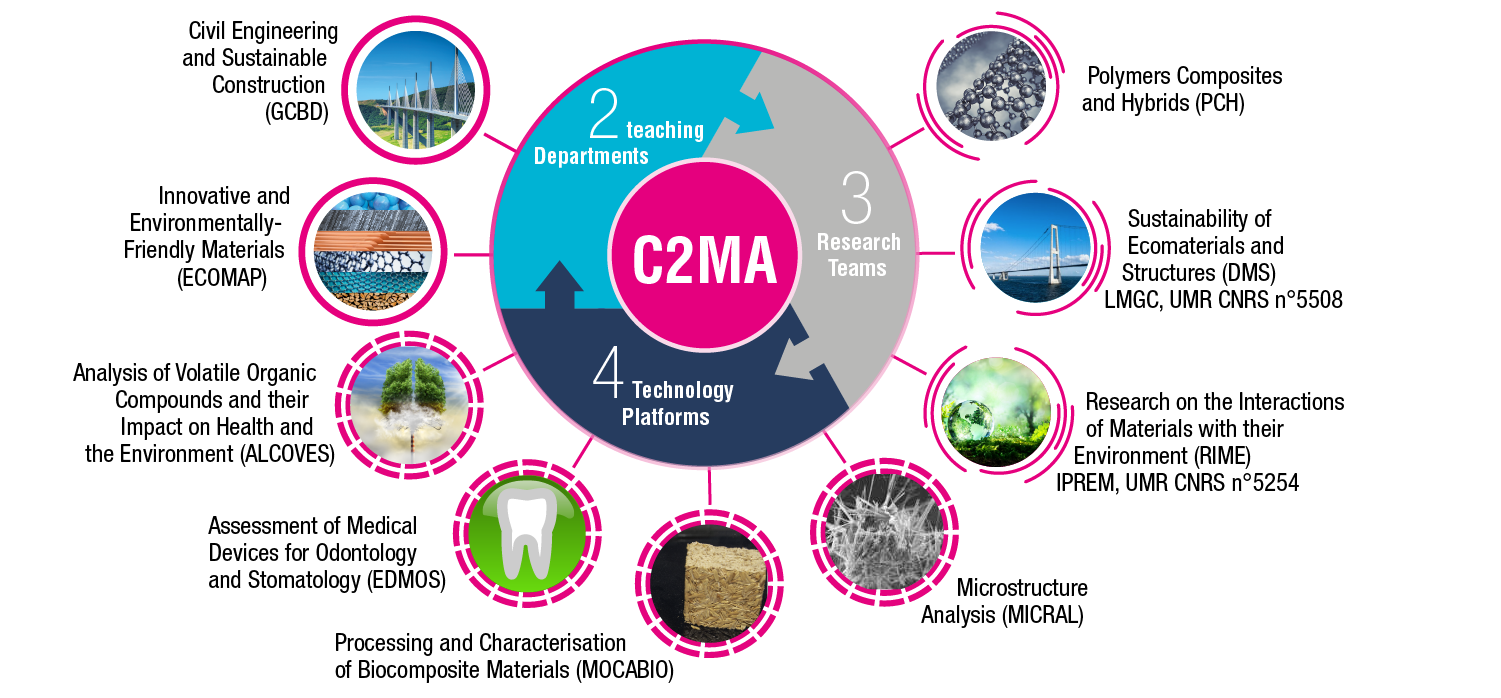 C2MA's scientific, technological and societal positioning
C2MA's research themes cover the entire life cycle of materials, including the recovery and recycling stages, with a particular focus on eco-materials and the environmental impact issue. In this context, C2MA develops concepts and tools to characterize, measure, understand, model and propose innovative solutions.

The activity of C2MA's research teams is based on a multidisciplinary approach favored by the diversity of skills from a wide range of disciplines, from engineering sciences (process engineering, materials engineering, civil engineering, mechanics, etc.) to chemistry and physical chemistry (mineral and macromolecular materials, surfaces and interfaces, etc.).

As part of the new research strategy of IMT Mines Alès, the research activities of C2MA have been restructured as of January 1, 2020. As illustrated in the image below, the three former research poles have given way to three new teams, which have joined new research units:
The PCH research team (Polymers, Composites, Hybrids) has become a new laboratory of IMT Mines Alès;
The DMS team (Sustainability of eco-materials and structures) has been associated with the LMGC joint research unit (Laboratory of Mechanics and Civil Engineering, UMR CNRS);
The RIME team (Research on the interactions of materials with their environment), located in Pau, has been associated with the IPREM joint research unit (Institute of Physical Chemistry for the Environment and Materials, UMR CNRS).
The scientific and technological skills developed through these cutting-edge activities are widely used in training activities. The training of engineering students is carried out through the Civil Engineering and Sustainable Building (GCBD) and Ecodesign, Materials and Processes (ECOMAP) teaching departments, with a significant role in training through research. This takes the form of R&D missions, which involve groups of students carrying out a research project using C2MA's technical resources. Several dual degree courses, in particular engineer-architect, are also offered.
The training of doctoral students is supported by three doctoral schools in which IMT Mines Alès is co-accredited to award the doctoral degree: the Information, Structures and Systems (I2S) doctoral school, the Balard Chemical Sciences (SCB) doctoral school, and the Biodiversity, Agriculture, Food, Environment, Land, Water (GAIA) doctoral school.
Support for the transfer of knowledge to industry takes the form of participation in calls for projects issued by the Occitanie region, the integration of regional companies in national or international calls for projects, direct contracts with industrialists, and assistance for start-up creators hosted by the IMT Mines Alès incubator.
For all of its research, training, and economic development activities, C2MA relies on several cutting-edge technological platforms.
Research teams
The teaching departments
Doctoral schools

Learn more about doctoral schools I2S et GAIA et Sciences Chimiques Balard.
Contact
Anne Bergeret
Coordinator of the C2MA research and teaching center